10/05/06 -
UPDATES ARE UP!!! CHECK THEM OUT!!!
09/12/26 -
ALL 2004 AND 2005 DOWNLOADS ARE COMPLETE.
:D ALSO, HAPPY 6TH ANNIVERSARY TO TVXQ
AND
HAPPY 1ST ANNIVERSARY TO SHINKI-ED!!! ~ SEO.YOO.MI 서.유.미.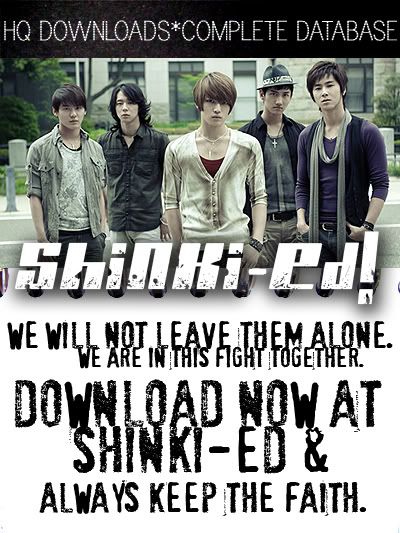 Iseul, Yoorim and Chaemi are one with Dong Bang Shin Ki and Cassiopeia in their battle against SM Entertainment's unfair and abusive treatment.
You should be too!
Let's all wish the best for each of the boys and remember, always keep the faith! ♥
seo.yoo.mi
Best viewed in
Safari
or
Firefox
!
hey !
don't
forget
to
credit
us if you're
taking
anything here.
leave
us a
message!
;)
ARE YOU LOST? Clicking any of the six links above will lead you back to the front page. Make sure to click ALWAYS KEEP THE FAITH after clicking any of the links!
Since December 26, 2008
Cassiopeians have been SHINKI-ed!